Sep 27, 2010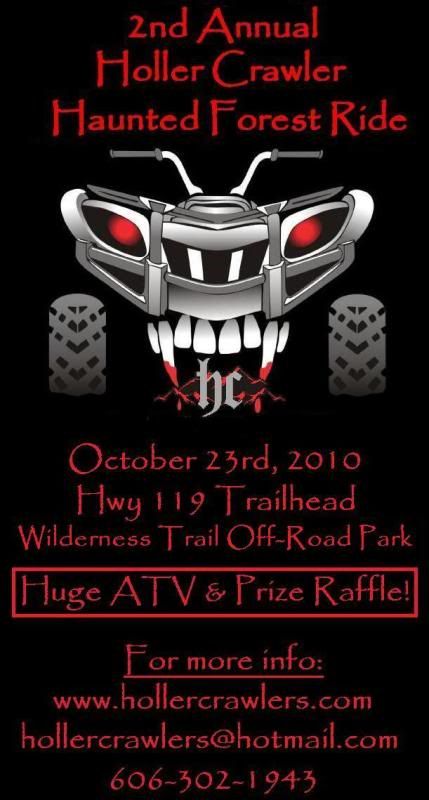 Howdy everyone!
Wanted to let ya'll know that instead of having our meeting the 2nd Tuesday of the month, the October club meeting will be on Tuesday, October 5th, 6:00 PM on the 3rd floor meeting room of the old Pineville Courthouse. The main topic of discussion will of course be the Haunted Forest Ride and we will be dotting all i's and crossing all t's in preparation for the event, which is looking to be a big one.
I recently learned that I will be writing an article for Dirt Wheels Magazine (whoo hoo!!!!) that will feature our club and park and I am going to try and cover the Haunted Forest Ride in it as well. In light of this, we want to organize a photo shoot at 5:30 PM during the ride to take some pictures from the article. If everyone could please wear the Holler Crawler gear and also have their costume ready as well (we will take one pic of everyone in the club gear and another one with everyone in their costumes on their ride. We have also invited many other ATV and off-road clubs to the photo shoot and want to include them as well and have encouraged them to wear their club colors, so we can show how an event like this can bring all our clubs together.
That's all for now. Make sure to come to the meeting this Tuesday if you are able so we can finalize all the details of the ride. This is looking like it may be our best ride yet!!!!! We can't wait.